The 2013 signing of the partnership L-R) André Garino, CHPG Chairman of the Board of Directors, Mr Michel Roger, Minister of State, Larry Jameson, Dean of the University of Pennsylvania; Prince Albert; Patrick Bini, Director of CHPG; Stéphane Valeri, Minister of Health and Social Affairs; Professor Nadir Saoudi in white coat, Head of the Cardiology Department at CHPG and Professor at the University of Pennsylvania. Photo: gouv.mc
Professor Nadir Saoudi has been Chief of Cardiology at Princess Grace Medical Centre (CHPG) since 2011, and is highly respected internationally for his pioneering work in the field of arrhythmia. It's therefore no surprise that he would create the MONACO–USA Arrhythmia Course, using his personal links with the University of Pennsylvania (UPENN), where he is also Adjunct Professor.
"I started this conference in 2011," Professor Saoudi told Monaco Life from the Lou Clapas Amphitheatre at CHPG, "as I wanted to create a course for high-level international students, all cardiologists specialising at least in cardiac electrophysiology – or arrhythmia."
Over three days, from Thursday, March 9 at 2 pm until noon on Saturday, March 11, the seventh edition of the MONACO–USA Arrhythmia Course took place involving 100 doctors from 25 nationalities, including Americans, Germans, Dutch, Australians, Algerians and Moroccans.
The congress incorporated, as every year, a live case in Monaco, which is transmitted to Philadelphia. This is then reciprocated by UPENN. In addition, and for the first time, this 2017 edition involved a live video transmission of a heart autopsy from an animal lab at the Mayo Clinic in Rochester, Minnesota.
"Video conference gives you access to specialists around the world in different fields and you can ask questions as they are doing an operation," explained Prof. Saoudi, who arrived in Monaco from his post in Rouen, Normandy. "As knowledge progresses and as new concepts arise, you must modify your techniques. What better way than speaking to the best specialists in the world connected directly with the Operating Room and the online operator? You can ask what you want based on what you see."
When Prof. Saoudi arrived at CHPG six years ago, there was a general cardiology unit with no particular technology. "I founded a laboratory and, as I'm known worldwide in the field for inventing techniques, it was relatively easy to connect immediately with my previous network to create a high-level course and obtain high-level equipment and start doing things which were needed in the area."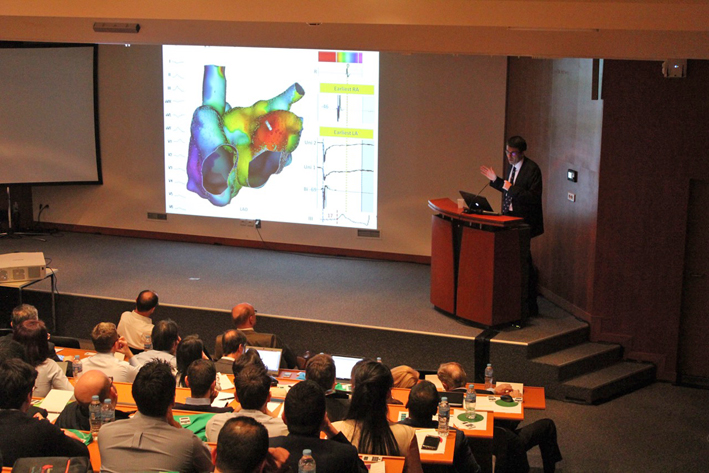 The MONACO–USA Arrhythmia Course is highly specialised, and extremely technical. "The course allows the young people who come here to learn from lectures about clinical cases, in relation to the lecture topic. They have multiple choice questions about 'what would you do' and they vote, being directed toward the correct answer."
Prof. Saoudi commented that having access to events like the MONACO–USA Arrhythmia Course is one of the most rewarding parts of his job.
Having received the French Legion of Honour, Prof, Saoudi has written and co-written more than 180 research articles and two books. According to Heart Rhythm Society, he published the world's first case of catheter ablation of an atrial flutter, in 1985, and then, ten years later, the first description of an isthmus block in humans.
READ ALSO
READ ALSO