Monaco Paws is off and running in 2017 as we continue our quest to meet the cutest and most intriguing dogs in the Principality. We begin with the irresistible Larry, a Pomeranian owned by Zhanna Pikhulya and her daughter Stella.
Zhanna originally came to Monaco from Ukraine to attend the International University of Monaco where she earned an MBA. Building upon a career in modelling, Zhanna is now co-founding a new brand of luxury handbags. Stella, 11, attends Collège Charles III. She is also a very accomplished rhythmic gymnast and regularly excels in international competitions.
When did you decide to get Larry?
Zhanna: I gave Stella a "License to Have a Dog" certificate for her tenth birthday. We hadn't found Larry yet, but she had this certificate, which made her very happy. Then we set out to find the perfect dog together.
So how did you find Larry?
Zhanna: We knew we needed a small dog, who could travel with us, and my other condition was that he shouldn't be too silly. We found Larry at a breeders in Biarritz. When I saw he was born on Stella's birthday, we knew he was the one.
Is this your first dog?
Zhanna: We've always had cats but the dog is the French influence. I fought against it very hard because it is such a commitment, however, we eventually gave in.
How have you adjusted to having Larry?
Zhanna: He's in charge and has completely taken over the apartment. He is our guardian.
Stella: We play a lot. He is always ready to play.
Is he ever a bit naughty?
Stella: He steals slippers and socks … And I feed him from the table.
Zhanna: He can be very barky, but when he wants "me time" he will go into his crate for a little break.
Does Larry like to go for walks?
Zhanna: He hates walking! He puts out his front legs and refuses to move, definitely not a jogging dog.
Stella: We always end up carrying him.
How does he do when you travel?
Zhanna: Perfect, not only is he is such a great traveller but he loves his travel bag. He'll sit in it for hours when we take it out to start packing up for a trip. He does not want to ever be left behind.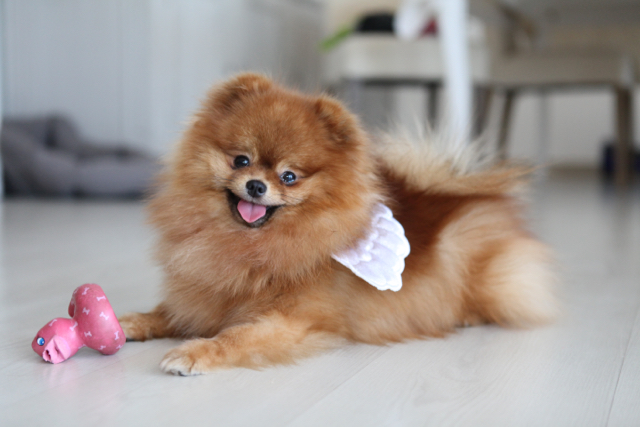 I see Larry has seven different outfits are displayed on the sofa …
Stella: We like to dress him up, but he doesn't really like it very much.
Larry is very handsome. Does he need a lot of grooming?
Zhanna: We give him a bath every few weeks and afterwards we wrap him up in a towel to dry. He loves to sleep for hours wrapped up like a baby.
Does he get a lot of attention?
Zhanna: He is such a rockstar, definitely more popular than me.
Stella: He has his own Instagram account – @larry_pom_monaco – he has more than 150 followers, so far.
Monaco Paws is a collaboration between writer Siri Trang Khalsa and photographer Kaidi-Katariin Knox. Follow on Instagram @stkmonaco and @art.of.an.eye or contact monacopaws@gmail.com
Article first published January 11, 2017
READ ALSO: Tess of the Ville
READ ALSO: West Highland White Terriers, Domino and Nellie