It was a heavily veiled secret as the Princess Grace Foundation USA called philanthropists and exclusive media to the Hôtel de Paris courtyard on Friday evening. The vibrant, live display set the scene for what promised to be a big reveal.
And it was. Grace de Monaco – a worldwide icon and forever Monaco's sweetheart, is now a global brand that is setting a new standard at the intersection of luxury and philanthropy, an important new chapter in her iconic legacy.
"Even when she passed away, Grace had so many long-term relationships with Cartier, Mont Blanc, Dior, who were all continuing to create incredible products around her brand," Brisa Carleton, CEO of the Princess Grace Foundation USA, tells Monaco Life. "This is a continuation, but it was important to the Princely family to make sure that her story was being told."
The first in the Grace de Monaco line of sustainably-produced luxury products is a signature fragrance, Promenade sur le Rocher, presented on Friday to her son, Prince Albert II of Monaco.
"I was a bit nervous working for this project because Princess Grace is such a legend," perfume creator Olivier Cresp reveals to Monaco Life, "but I knew that she really loved roses, so I mixed a duo of roses from Grasse and Bulgaria, quite powerful, feminine roses of excellent quality, and I added jasmin from India. That's the classic, timeless fragrance. Then, in order to make it more avant-garde, I used fractions of patchouli and musk, and added warmth with some vanilla. And that's it – a very minimalist, natural and modern fragrance that I am sure is going to be a great success."
It is certainly an intoxicatingly romantic blend encased in an equally exquisite bottle, the design of which was kept secret even from the perfumer himself until this evening. Beautiful, dramatic, artistic … just as Princess Grace would have had it.
"When the foundation got in touch and asked if I could do something for them, of course I was deeply honoured, because Princess Grace is so iconic," says bottle designer Jérôme Faillant-Dumas, who has worked for the likes of Chanel and Yves Saint Laurent. "I thought to myself, 'Ok, if she were alive, what would she love to have for herself?' So, I gave the bottle some haute couture spirit – golden 'jewellery' with a jasmin flower, frosted straight lines that must be done by hand on each bottle. The box also has embossed flowers – it is all very haute couture."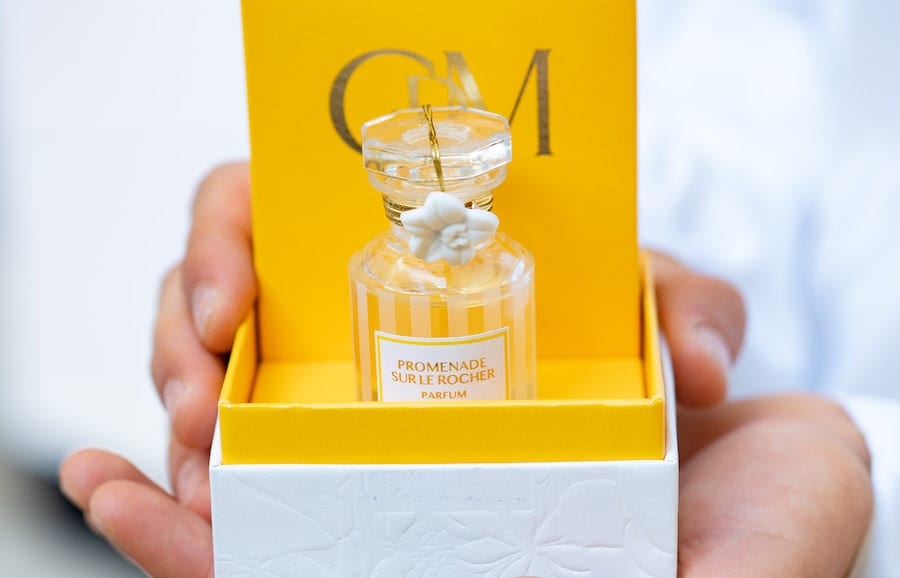 The Grace de Monaco brand was inspired by the luxurious setting and timeless feeling of the French Riviera, and through this new initiative the Princess Grace Foundation aims to inspire and educate a new generation about her legacy.
The perfume had its soft launch in Monaco to give the local community time to "connect" with the brand, says Brisa Carleton, ahead of its global launch next year.
"We chose to start with a fragrance because it is less about a product and more about a sense and a feel, so people can start feeling Princess Grace here again. Then we will move into other very limited product lines. We will always be ultra-luxury and highly curated, very exclusive products as is appropriate for an icon."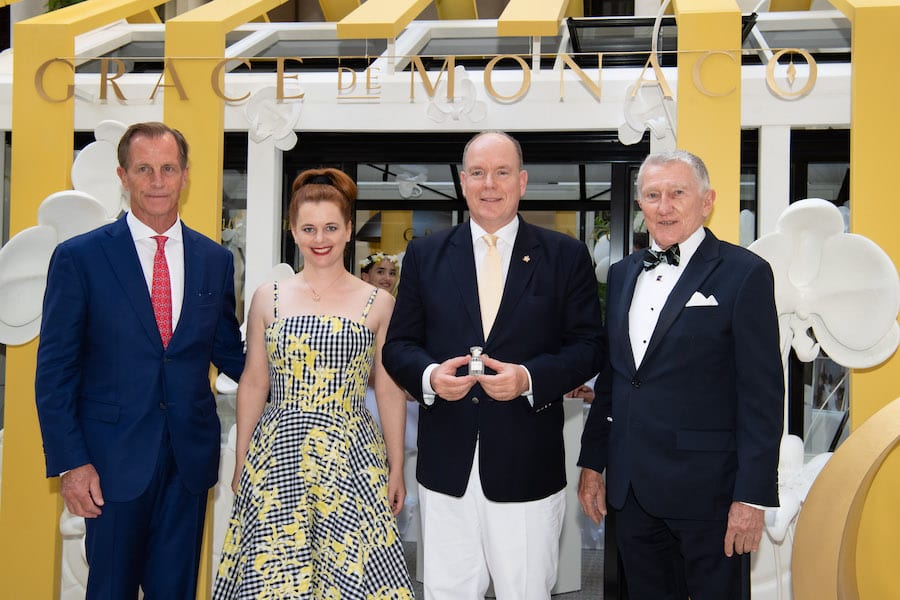 Brisa Carleton was brought in as CEO two years ago to usher the Princess Grace Foundation USA into a new era and explore alternative business models. Much of that time has been impacted by the Covid pandemic.
"That is partly what inspired us in doing this now, there has never been more of a need to fund the arts," says Brisa Carleton. "We are excited to be blazing a new trail that will hopefully create a recurring revenue stream so that in ups and downs, the arts can continue to be funded."
Uniquely, 100% of the proceeds of the Grace de Monaco brand go to the Princess Grace Foundation USA's charitable activities.
"This brand is wholly owned by the foundation, so it really is luxury for good in every sense of the word," says Brisa.
To finish the spectacular launch, Prince Albert had these words:
"It is my hope that you will support this project and serve as its ambassadors around the world. Please help us to ensure this endeavour thrives so that tomorrow's extraordinary artists can achieve their dreams."
For more information, visit the website: https://gdmonaco.com/en
Photos by Gaetan Luci, Prince's Palace…
READ ALSO: